If you really like diving in Cozumel, dive the C 53 Felipe Xicotencatl ship wreck, located at Cahankanaab sandy area at 77 ft deep and rising to 45 ft.
Sank in 2000; donated by the Mexican Navy.
Project was conceived, designed and carried on by ANOAAT local dive shops asosiation and the Parque Marino Arrecifes de Cozumel.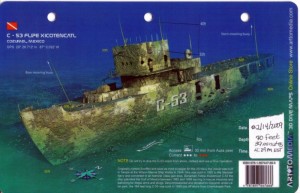 This project started in 1998 at a DEMA show, we met some Canadian folks that where making artificial reefs for their diving areas by getting old boats from their goberment, cleaning and preparing them for sinking and diving safely, so they gave us the inspiration and once back in Mexico we started knocking doors to get an old, out of commition Navy boat.
On those days the National Marine Park ¨ Arrecifes de Cozumel¨ was starting, so in coordination with them as Federal Marine Authority, we started inviting all diferent groups of the community, the local authorityes and of course the ANOAAT members wich is the local Dive shops asociation.
After more than a year finaly the President Ernesto Zedillo authorized three boats for such a proyect, wich now are in Veracruz, Cancun and Cozumel.
The surrounding reef is a small patch that is in good shape and Chancanaab reef is far away from it since it lies on a big sand bar.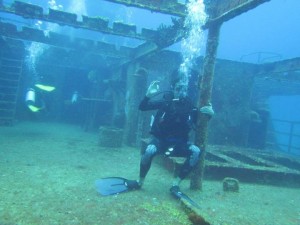 It is a fairly easy wreck dive with lots of natural light coming in to it, an easy acces from all sides and at a depth that can be dive as a first or a second dive.
In it´s good old days this boat was on service in the USA Navy under the name Scuffle http://en.wikipedia.org/wiki/USS_Scuffle_(AM-298) .
In 1962, it was sold to the Mexican Government and set for duty on Mexican Navy under the name ARM O5 later on got the name that has till today in commemoration of Lt Colonel Felipe Santiago Xicoténcatl http://en.wikipedia.org/wiki/Felipe_Santiago_Xicoténcatl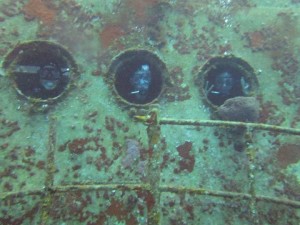 So if you are looking for a wreck diving in Cozumel, dive the C53 I am sure you will like it.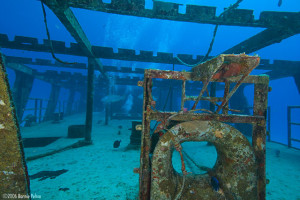 Are you ready for an ecological diving in Cozumel?
If so, please contact us for reservations and/or questions!