Welcome to Eco Divers Cozumel
Eco Divers is a small dive operator run by husband-wife team, Jorge Alonso and Kristin Sansonetti and specializes in customer-tailored service. Opened in 1995, by PADI Instructor, Jorge Alonso, it was the first dive shop in Cozumel to promote ecology diving at the time – a focus on educating our divers about marine conservation. As a first point of contact for many visitors to the island, we feel a particular responsibility to help divers understand the fragility of the coral reef ecosystem. Our staff will provide you with ample information regarding this special environment so that you may better appreciate how to care for it while enjoying the many beauties it has to offer.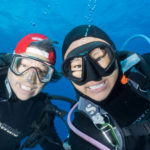 Jorge and Kristin met in 2008, when she arrived to the island to complete her PADI open water certification. Over a period of 4 years, Kristin became a PADI Divemaster and in 2013 became a certified PADI instructor. Together, with their two Boston Terriers, Stoli and Dalila, and their rescue, Cali, invite you to join them for an ECO experience!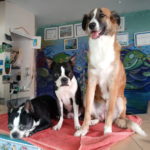 Our fast boats carry six to eight divers per trip so that we may manage dives safely and provide each individual with an ecologically sound adventure. Our divers' safety is our #1 concern, which is why we use a 1:4 ratio in order to provide more personalized attention to our divers. Our experienced staff is always happy to help if you require a little more attention at anytime during the dive trip. All dive trips include fast boats, weights, soda & purified water, snack, visits to two different diving sites, and a bilingual (English and Spanish), PADI-certified divemaster with a helpful crew. Not a diver? Snorkelers are welcome aboard as well!
Eco Divers offers 2-tank boat trips for all certified divers. Not certified? No problem! Eco Divers provides PADI instruction for divers with little to no experience and full PADI certifications for all levels (Open water through Divemaster). It is a great, safe family activity. Children as young as 10 can earn their Jr. Open Water certification. If the kids aren't old enough and you still want to dive, we provide babysitting services, either on the boat or at your rental (price can vary depending on service).
The shop is conveniently located in the downtown area of Cozumel, just 3 blocks from the ferry pier so if you're crossing from Playa Del Carmen for the day or staying on the island, Eco Divers is easy to find, located at the intersection of 1st St. and 10th Ave. Eco Divers also offers special group rates so please do not hesitate to contact them for more details. You can reach them at (52)987.872.5628 or online at www.ecodiverscozumel.com. We look forward to diving with you!