Like many people I worked hard through college, and began my career. Working hard and long hours to achieve the American Dream was my mission. No balance in my life, working ridiculous hours so that I could afford expensive vacations, when what I needed was to create a life that I didn't need a vacation from. After 30 years of this I had an epiphany. I had an epiphany sitting with Jorge and Kristin at El Moro enjoying some lunch and an adult beverage or two. Why couldn't I be happy without all of the material trimmings that I had worked so hard to gather? Why couldn't I have a simple life full of experiences and a few good friends? It was then that I was committed to a major change.
I returned home and went back to work, but with a different outlook. I basically had one foot out of the door, and my conviction to change grew stronger everyday.
I returned to the island in December of 2015 to start my PADI Divemaster training with Eco Divers. I completed my training in January 2016. For the record this was an amazing experience. After I completed my training I returned home and relinquished all financial interest in a large air conditioning company and walked away. I was sitting at home reflecting and trying to calculate my next move when Kristin called and said "hey anyway you could come down and work as a guide for a few weeks"? I said yes and had the tickets booked in a matter of minutes.
I spent a little over two weeks on the island, guiding trips, working in the shop and spending time with Kristin, who had also walked away from a very conventional way of life. I learned many new things, but mostly learned that it was the most peaceful time of my life. I earned enough money to have a roof over my head and some food and drink. I was working as a PADI pro and diving everyday! No phones, no computers and no desire to take over the world. It was an unbelievable feeling and it was then that I knew that I would never return to the corporate world, and that I wanted to be involved with diving much more.
So again I returned home forever changed, and immediately began training to be a PADI Open Water Scuba Instructor. I became a PADI instructor in July of 2016 and began working for Flatirons Scuba in Broomfield Colorado. It has been a busy year, but I achieved PADI Master Scuba Diver Trainer in January 2017 and PADI IDC Staff Instructor in May 2017. I am now pursuing PADI Master Instructor and then onto PADI Course Director.
There is nothing stopping me now. There is a whole world of possibilities for anyone that wants to let it all go and follow their dreams.
I thank Eco Divers and more over Jorge and Kristin for helping me get away from being rich and miserable.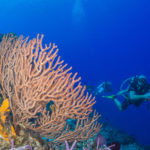 Jay P. Brewer #374312